The Country Diary Book of Creating a Butterfly Garden

By
Elizabeth Warren
,

Miss Warren's book (£4.99) has been republished after being out of print for a decade. The original printing blocks had been thrown away, and this edition was produced digitally by photographing the pages. But h
urry --- stocks are low! Order through Littlehampton Book Services Mail Order Department on 01903 828503, fax 01923 828623, quoting ISBN 0753707756.

Dunav Balkan Group

Caroline Thomas
has played piano accordion with this music group since 1970. Specialising in the traditional music of south-eastern Europe, from Romania to Turkey, they aim to reproduce the authentic sounds, rhythms and moods of this hugely varied region. Caroline has made concert tours with Dunav to Bulgaria, Romania, the Republic of Macedonia and Turkey, performed on TV in several countries, and produced a number of recordings. Their best items are available on CD @ £5 + p&p. Order by email to contact@dunav.org.uk Visit www.dunav.org.uk
View us filmed by Turkish TV on http://youtu.be/fk1bv-sbY5U


Paradise Remembered

By
the late
Ursula Vaughan Williams
(maiden name Lock).
Ursula, second wife and biographer of the famous composer (died 1958), attended St Margaret's from 1925 to 1928, and contributed to the book about the School's history. She attended our centenary reunion in 1990. This funny, fascinating book of memoirs is available @ £25 + £3.50 p&p from Albion Music Ltd, 65 Marathon House, 200 Marylebone Road, London NW1 5PL. Those interested in Ralph Vaughan Williams and his music can visit www.rvwsociety.com

Ursula died on 23 October 2007, aged 96.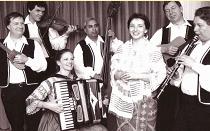 Urgent! Stocks are low! Order now!

A book by Dora Dicum!
It is a novel called 'Radha'. Go to amazon.co.uk, put Radha into the search box, and you will see it there - a green cover. Click on it and you can then look inside the pages! You can order it for when the second edition is printed.

Here is what the publishers say about it:

"Dora Pushpa Dicum has written three books of which Radha is the first to be published. In it, this exciting new writer vividly portrays all the sounds and senses of preindependence India and Malaya as she unravels the cultural clash between Radha and her husband and the unbridgeable gulf with her teenage children."