Zonia Field, Claire Slade, Lesley McLarty, 1955

Les Sylphides, excerpts performed in "Perchance to --- Dance", the photo mounted here on an ink-wash background by Ruby Thomas, Caroline's Mum.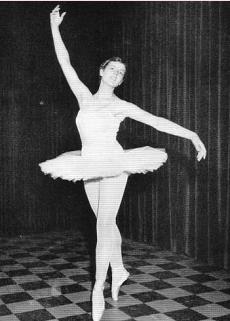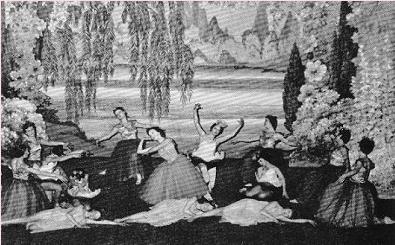 The Enchanted Lake, from 'Mother Goose' 1959

Miss Moya Kennedy, Dancing Mistress. For more information about her, go to Items of Interest page.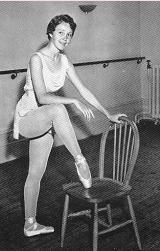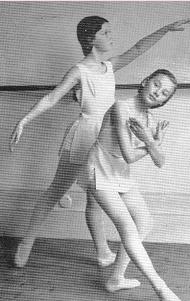 In 1953 Anne Martin (11) and Susan Dolton (12) were selected to dance in the Cecchetti Ballet Demonstration in London.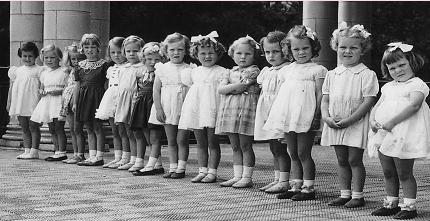 Flashback to 1948 - - -

Here is Miss Kennedy's budding

corps de ballet

in a new creation entitled 'The Baby Class' which opened 'A Midsummer Dance Fantasy' at the Leas Cliff Hall, proceeds (in true De la Mare tradition) to the Mayor's Coal Fund. Only a few were St Margaret's girls: nos.5, 6,9 and 11 from the left are Susan Horton, Caroline Thomas, Susan Dolton and Janet Anthony. Any others?

Caroline remembers as if it were yesterday meeting Miss Kennedy for the first time and insisting haughtily on being called

Aunt

Caroline, as she had been presented at the age of three with a niece. She also recalls dance lessons in the school gym, learning the polka step which entailed train carriages (slide foot to side), tunnels (lift heel and tuck other toes under), train coming out the other side (another slide to right) and signals going up (pointed foot to knee). Also making a flower shape with wrists together and fingers spread back, then bringing them together and making the petals fall --- embryonic Cecchetti arm-work. Also the Teddy Bear's Picnic dance in which we put our fingers in our mouths and made loud pops to represent lemonade bottles. Glorious stuff, this, etched in the memory forever.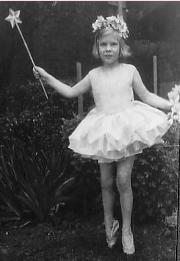 Caroline's first tutu
en pointe

OK, not quite as elegant as Sue Bristow, but it was my 6th birthday.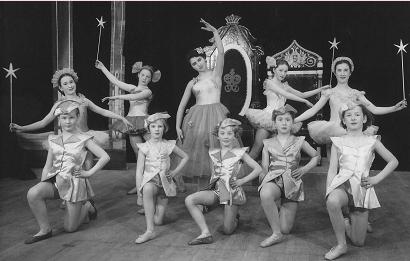 'The Sleeping Beauty' (1951) --- her Fairy Godmothers
and their dashing little colour co-ordinated page-boys, Vida Farhad in the centre is the Lilac Fairy responsible for the happy outcome of the story.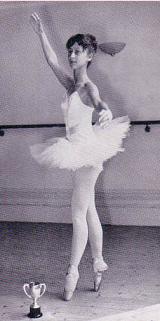 In 1963 Lilian Evans won the Heather Marshall Cup for ballet in the annual competition in the School Hall, adjudicated by Miss Brooks, LISTD, of the Cecchetti Ballet Society, who was deeply impressed by the standards of all competitors.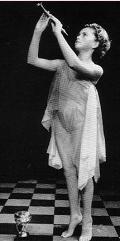 Joanne Lee gained 1st Award for 'Greek' dancing at the 1965 Folkestone Music Festival.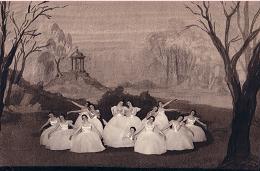 Alice in Wonderland
Arthur Brough produced this classic at the Leas Pavilion for a week following Christmas 1953, and involved St Margaret's girls. His daughter Joanna Brough played the Cheshire Cat, and Miss Kennedy staged some ballets performed by Zonia Field, Claire Slade, Lesley McLarty, Gillian Lewis, Sonia Hughes, Fairy Ebrahimzadeh, Christina Rees and Rosemary Leyden. The show was well contrived on such a small stage.

Susan Dolton
By 1959 Susan had won 8 cups and 40 first awards in the Folkestone Music Festival, passed every possible ballet examination open to her, won a Cecchetti Scholarship, and gained an award from the Academy of Advanced Ballet. She left St Margaret's that year, having been there since she was five years old. Susan was one of our most talented dancers. She holds the record for having appeared in eleven of the School pantomimes.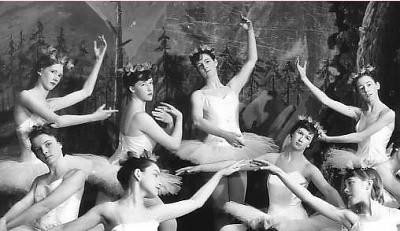 A typical St Margaret's ballet tableau, from the 1962 pantomime 'Puss in Boots'. Back row: Maureen Rafferty, Antoinette Atterbury, Caroline Hardy and Caroline Cable.

Here's another group of budding ballerinas at class in the Junior School assembley hall, Grimston Gardens.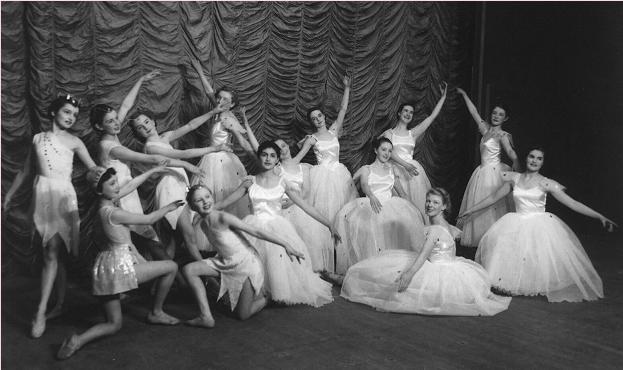 From 'Goldilocks and the Three Bears'