SMOGS Notice Board

Scroll right down!
Caroline Thomas' Autobiography
Go to The Society page and click on a special box. To exit from the Autobiography page just close the window and you will return to SMOGS.

Mouse-mat
- - -

Would you like a mouse-mat with this painting of our School on it? Email carolinejthomas@yahoo.co.uk and you will be sent an electronic version of the picture. Then you can send it to the mouse-mat maker of your choice. If you don't know one, Caroline will recommend the one that made hers @ £8 including postage.

ANOTHER VIDEO FROM THE OLD DAYS!
Davena Loughton has sent us a DVD showing girls in the School's back garden, on the Leas ant playing cricket. What a fantastic addition to our archive! Thank you so much, Davena. Speakers on for the lovely music.

No sound to this old cine film, taken by Caroline Thomas. The girls are from O-level year 1958 and 1959.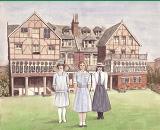 Sadly, we have to tell you that we have lost three of our Old Girls recently:



Gillian Cann

, year 1952, died 14 January 2016 after a brave battle with cancer. It had returned
in virulent form and spread throughout her body. She had lived a much travelled life, with her
parents in Nigeria for Shell, in Libya with her husband Barry Cooper, and Indonesia where her
daughter Cathie was born.


Mandy Gibbs,

year 1960, died 3 July 2016 after 35 years of MS.


Davena Loughton

, year 1954, in July 2016 after a short illness with cancer.




2016 REUNION
Go to Reunions/Previous and scroll to the bottom of the page. Photos top right.


NEW!
(Well several years old, actually)
I invite you to view your Webmistress (sort of) performing Gilbert & Sullivan. Scroll down to the bottom of this page. There are two separate 'performances'.

A 1930s FILM OF THE PLAYING FIELD!

Go to the Sport page and scroll down to the bottom where there is Caroline's painting of our playing field. There is now a film from the 1930s showing Caroline's sister Amber Thomas (born 1921) and others at the gate, and the tennis courts filmed from the top floor of Caroline's house, where she also made the painting. Filmed by their Uncle Alistair Gordon.

MISS WARREN'S FATHER'S COAT
has been in the news. Go to Items of Interest page and scroll to the end.

Summer 1961 --- girls playing in the back garden of Earl's Avenue. This has been sent in by Rosalind Pembroke (year 1962). Any more films out there?