Reunions:

Scroll down for Class reunions: click below for 'national' ones.
The Society currently organises annual reunions, either in London, Sholden near Deal, Folkestone or --- well, we are looking for offers! Special events are occasionally suggested, such as the guided visit to Kew Gardens in March 2003. Locally, Old Girls organise meetings all over the world.


Jennifer Bateman's house in Sholden near Deal.
That's Jennifer in the middle.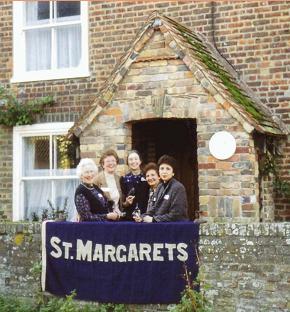 "Old Girls they call us; but it is half the charm of St. Margaret's, that, on entering the doors, the intervening years seem to drop away, and one goes rollicking back again to the school girl times." March 1928

"Keep its lamp
forever burning....
SMOGS IN AUSTRALIA
An off-shoot of SMOGS, known as SMOGSOZ is comprised of Old Girls who meet for lunch from time to time: Caroline Hardy, Lynn Perry, Gillian Hindley and Monica Armstrong. Lovely idea. Here are Sonia Hughes, Mahnos Kazemi and Barbara Milton in Perth in the 1990s. See below for SMOGSCAN. How about SMOGSUSA, you American girls?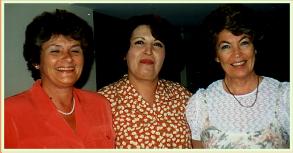 Celebrating 60 years of friendship
Jennifer Bateman, Sonia Joyce, Wendy Philips and Mary Gooch met for lunch on 28 January 2009 at the Victoria & Albert Museum to mark six decades of friendship. They shared Dormitory 12 in 1949-50.

WATCH REUNIONS ON VIDEO!
Go to Reunions / Previous events for reports and photographs (including an enormous album to browse through!). Look for the navy blue box with gold lettering where you click to view the videos taken by Caroline Thomas and (in 2011) by Vida Farhad. Switch on your loudspeakers, and enlarge the image to fill your screen.

A group of ladies . . . .
A group of ladies who went to the same school met up to celebrate their birthdays. For their 40th they went to the Kalala Grill because the waiters were so handsome and sexy. For their 50th they went to the same place: the view of Bouverie Road West and Castle Hill Avenue was unsurpassed. For their 60th they went to the Kalala grill because the menu had easily chewable dishes. For their 70th they went there because the restaurant had wheelchair access. And for their 80th they went to the Kalala because they'd never been there before.

(Thanks to Colin Drury of Glamorgan for the original, and to our very own Jennifer Bateman for Smogsifying it.)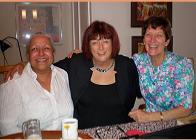 Welcome to SMOGSCAN. Here are (l-r) Jami Ahmad, Adele Wood and Susan Peck at Jami's home in Toronto.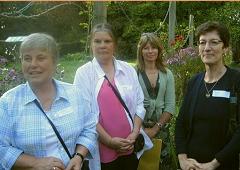 SMOGSCAN came over for the 2008 reunion.They spent a few days at Averil Champion's farm in Kent, photo on the left: (l-r) Susan Peck, Bridget Radcliffe, Averil Champion, Mary Cope, Sherrian Rewell and Jami Ahmad. Then they went to the the SMOGS reunion in Deal, photo on the right: Averil, Sherrian and Susan, joined by (3rd from left) Julia Parker-Jones from Poole.

Jean Bristow and Julie Westall met up in Canada on 25 Sep 2011 for the first time since 1964. Julie had brought her old school cloak, and here they are sharing it. Jean was delighted when Julie presented it to her as a gift.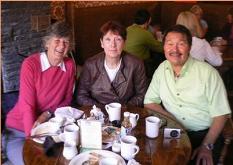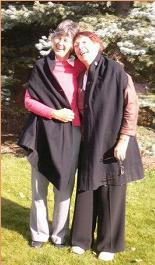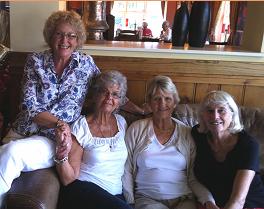 Natalie Pearlman (far left in this picture) splits her year between Hawkinge (near Folkestone) and Spain. In the autumn of 2011 she arranged a reunion in Hawkinge with Sally Pounds, Delia Collett and Zan Port.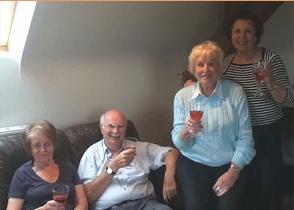 Marigold Bassett, Pat Norris, her husband Ken, Maureen O'Sullivan and Vida Farhad met up in 2012 to celebrate the 56th anniversary of the Norris' marriage. Pat took the photo.

'70 GIRLS 70'
5 July 2005 saw a small but special reunion at Jennifer Bateman's cottage in Sholden, Kent. Only five could be there: Jennifer of course, Marigold Bassett (cheating --- she is not 70 until 2006!), Maureen O'Sullivan, Pat Norris, Mary Gooch and Wendy Phillips from Canada. They had just assembled when a magnum of chilled champagne was delivered to the door with a message from Audrey Lant: "Happy Septuagenarian Fiesta, wish I was there! I am in spirit." The champagne helped the girls to have lunch in the garden in spite of poor weather. They had melon, home-made chicken pies, gammon and salads, followed by Vaharine of Strawberries and Summer Pudding. Maureen brought her St Margaret's memorabilia which provoked stories of misdemeanours. Rain stopped play, so tea and birthday cake were consumed indoors. Jennifer had decorated the cake with dancing girls, as shown here. Sonja Joyce is planning a similar party next year for her 70-year-old school-friends. May the tradition continue!

REUNION OF CLASS OF 1966
Here on the left is a photo of eighteen girls who took O-level GCE in 1966, plus Selina's sister Nicola, at a reunion in the Burlington Hotel, Folkestone, on the weekend of 18-19 September 2010.

From left to right: back row: Fiona Phythian, Charmian White, Jane Gregory, Jocelyn Worts, Barbara Thomas, Elizabeth Ogden, Selina Endacott, Nicola Endacott, Lesley Waite, Elizabeth Elston.

Front row: Rosamund Calvert (seated), Penny Smith, Claire Ross, Hazel Greenfield, Isobel Elliott, Penny Anson, Susan Silvester, Pamela Grace, Sheila Bateman.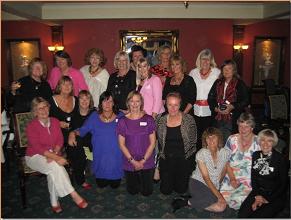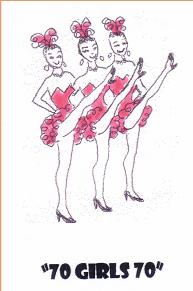 REUNION OF CLASS 1964
23 Girls checked in at the Clifton Hotel in Folkestone for two nights 23 - 25 September 2014. It started with tea and non-stop conversation, punctuated with gales of laughter. They had their own dining room for meals and sat with different Girls at each meal. They browsed through old magazines, photos and even GCE exam papers, and had group and individual photographs taken professionally by Lyndsay Boyce's sister-in-law.


They went on trips to see the school's window in Holy Trinity Church, visited old haunts in Sandgate Road, strolled on the Leas, and called at the old Junior School in the corner of Grimston Gardens, now the SES Language School, whose principal had kindly allowed them to tour the building. This was a highlight of the reunion. Very little has changed. They took pleasure in ascending the main staircase, which had been forbidden when they were pupils! This photo is of the eight Girls who had all been in Kindergarten together between 1952 and 54, in Mrs Whicker's classroom. Might this be a record -- so many together in the room after 62 years? L-R:
Lydia Stanners, Vivienne Moncrieff, Jillian Scragg, Jean Bristow, Gillian Chesterman, Sue Morwood, Susan Rogers and Marolyn Lucas.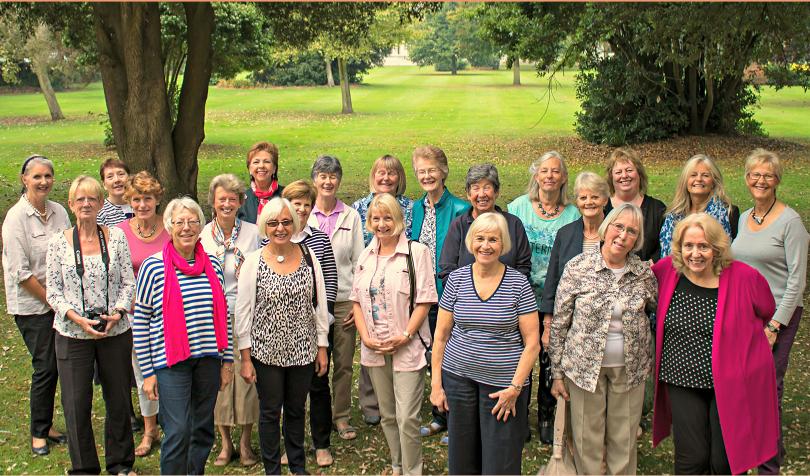 L-R: Mary Lock, Maureen Raffety, Julie Westall, Anne Blaxland, Caroline Cable, Gillian Chesterman, Marolyn Lucas, Penny Jeggo (front row), Sandra Lewis, Jean Bristow, Tina Shaw (front row), Susan Barker, Andria Mount, Lyndsay Boyce, Lesley Day (front row), Sue Morwood (back row), Jillian Scragg, Suzanne Ross (front row), Vivienne Moncrieff, Susan Rogers, Eileen Wright (front row) and Caroline Young.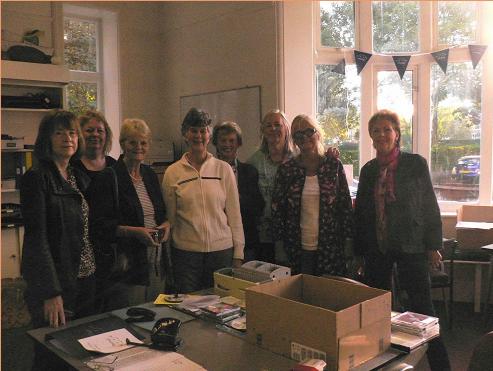 Suzanne Ross came from New Zealand, Caroline Young from Australia, Julie Westall and Jean Bristow from Canada, Lyndsay Boyce and Sue Morwood from France, Tina Shaw from the far north of Scotland, and everyone else came from all over England.

The group has made a financial donation to the Peta Birch Community Association, in memory of the four girls from yaer 1964 who have passed away: Peta Dearing, Penny Clarke Lens, Naomi Dyson Rooke and Lindsay Patterson. For more information on the work done by Peta's Foundation, go to
http://www.petabirch.org/
Jean Bristow writes:

"We were sad to bid farewell to one another on Thursday morning but we resolved to do it all again in five years' time. We all agreed it was a tribute to the Spirit of St. Margaret's that the Hassons fostered during our time there, that we were able to pick up almost where we had left off in the mid-sixties. Although some of us have stayed in touch or reconnected over the years, there were plenty who had not seen one another since either 1964 or 1966 and yet the strong bonds of love and friendship still endured."






08 ladies 80

Wednesday 15 April, 2015, Rembrandt Hotel, London
A lunch party was organised by Jennifer Bateman to unite 8 of her class members (year 1951) aged 80 during the current year or next year: Maureen O'Sullivan, Pat Norris, Vida Farhad, Wendy Woolliams and Jennifer Bateman, plus a couple of young 'Juniors', Sonia Joyce and Marigold Bassett, who will be 80 next year. Mary Gooch was unwell and could not attend. Maureeen offered to buy wine, but the hotel agreed to provide it in lieu of Mary's missed lunch. Girls --- photographs, please! Soon, or there will be punishment.

Sonia Joyce read out this poem she had written to commemorate the occasion:

Ladies who Lunch
8 ladies lunching
8 ladies approaching - or already 80
8 Ladies - a Rembrandt 'Still Life'
More like a lively life, or
Several lively lives
There's Jennifer and Mary
Sonia and Wendy
Pat and Marigold
Maureen and Vida
Growing old (dis)gracefully
8 ladies linked
By school (Winnie, cricket and the Panto)
By life (here and overseas)
And by friendship
640 years!
Bring on the 9th decade!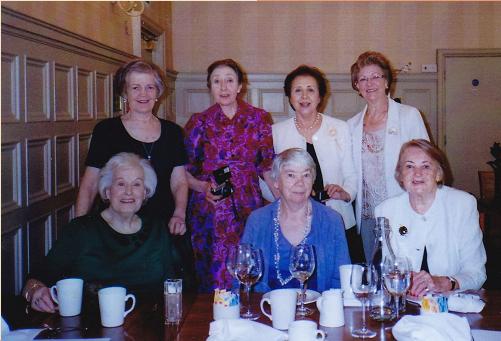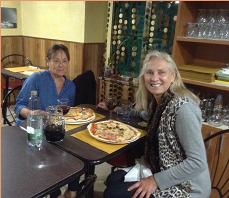 Belinda Weaver & Patricia Foot (Year 1965) catching up in Belinda's village in Tuscany, 2015.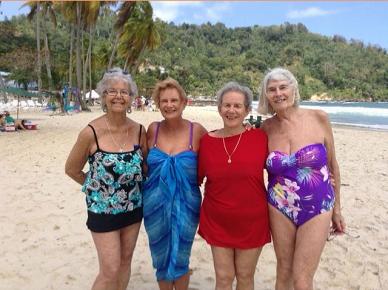 Sally Pounds, Elizabeth Anderson, Carolyn Anderson & Zan Port in Trinidad February 2016.