Cricket captains

1947 Sheila Phillips
1948 Rosemary Voisin
1951 June Bonniface
1952 Sybil Friend
1955 Margaret Harrison
1957 Ann Croft
1959 Carolyn Stevenson
1960 Virginia Bradford
1961 Susan Goatman
1962 Susan Goatman
1963 Mary Shaw
1964 Jackie Kelly
1965 Susan Peck
1966 Susan Peck



Mr Hasson loved cricket and coached the teams from the outset until his retirement. Their extraordinary success earned them the respect not only of other cricket-playing schools around the country but of women's clubs and county teams. Between 1949 and 1953 they won 78 matches in succession.

In 1955, Mr Arthur Croft, father of Ann, presented the school with an automatic score-board which he constructed himself. It was the envy of many visiting teams.



St Margaret's School v. Kent XI --- 4 May 1957
Cricket history was made this day. Never before had a county men's team played a girls' school. Doug Wright, father of pupil Jane, suggested it as a benefit game. In spite of it being the School's first game of the season, the team were not overawed and, during their innings, they got the ball to the boundary no less than 44 times, with special credit to Ann Croft (Captain), Sally Chiverton, Hilary Hunter-Smith and Diane Gillegin. The Kent men showed great skill in achieving a draw (such as dropped catches), and the whole atmosphere was happy and festive. More than a thousand spectators were there to witness the match, and it was replayed on the ITV television sports programme the same evening, while the two teams were celebrating at the Hotel Metropole. The whole English speaking world took an interest in the match, and press reports appeared in Australia, New Zealand, South Africa, Pakistan and Ceylon as well as provincial papers all over the UK. Ann Croft was hounded by reporters and photographers, but did not allow it to turn her head!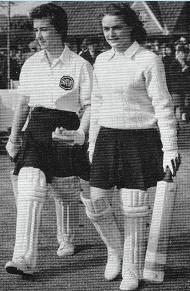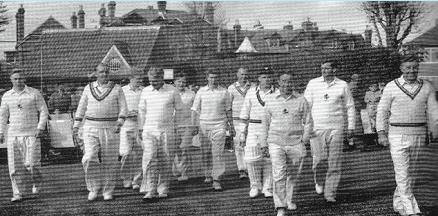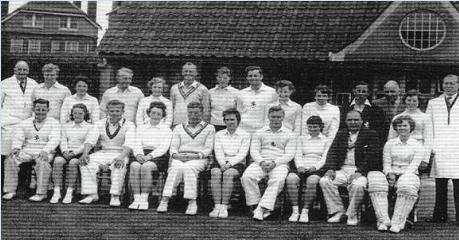 . . . and again in 1964 !
Another age, new teams, but similar challenges.This time it was the Bob Wilson Benefit match, with raffles tickets, score cards and collecting tins raising £100. The Mayor and Mayoress, plenty of press photographers and a BBC television crew were there in force. The TV can sustained a dent from being struck by a 'six'. The photograph on the right shows Bob Wilson autographing a bat. (Below is a message from Bob aged 82!)

St Margaret's team consisted of Mary Shaw (Captain), Lesley Ann Haining, Margaret Williams, Patricia Foote, Susan Peck, Sandra Lewis, Sheila Tuckwell, Saname Ghayour, Jackie Kelly, Carolyn Shaw and Penny Clarke-Lens.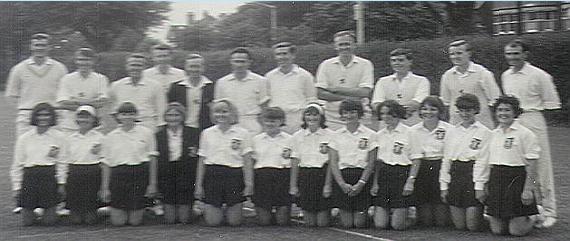 Susan Goatman became All England Women's cricket captain..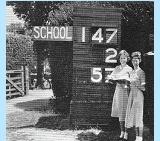 A bit of trumpet blowing - - -
as recorded in the 1950 School Magazine:
"Eighteen matches were played. Our opponents included Public School, Women's Cricket Clubs, the WRNS, the WRAF, and Nonington College of Physical Education, and in some of these sides we met County and even England players. Of the eighteen matches, fifteen were won outright. The other three were drawn, two of them in our favour..... One of our batsmen had a three-figure average; five had double-figure averages. Three bowlers took 136 wickets between them at a cost of less than five runs each. Two centuries and two hat-tricks were recorded for the school..... We scored all our runs at an average speed of over eighty runs an hour. Before the season ended, our prowess had been noted in both local and national press..... All this was achieved by a team the average age of which was under fifteen; our best eleven included four thirteen-year-olds. Our foremost cricketer was, of course, our Captain, Rosemary Voisin. She is assuredly the best school cricketer in England."

The Staff match.
The St Mags 1st XI showed they could be generous too, when playing against their teachers in the 1952 Staff match, described as "a game as funny as a Marx Brothers film . . . . How gallantly the staff fielded while we made a quick 95 for 5, and what a neat catch Miss Kennedy made. Of course the Games staff had to face our bowlers at their best. Miss Norrington made 8 but Miss Bland and Miss Woolliams were both bowled second ball, the former by Isobel and the latter by Pat. The non-cricketing members of the staff, however, made some runs aided by some fielding which was clever in the manner in which it avoided holding easy catches and several times managed to kick the ball over the boundary-line. Sybil stage-managed it all very well and the spectators enjoyed it immensely."

"A game of the Gods"
That is what Mr Hasson called it. May the Webmistress add a few observations about cricket at St Margaret's? I was not a fan of the game, or indeed any sport. But reading in the school magazines the accounts of matches and the skills of the Girls has given me huge pleasure. It reveals the team spirit and hard practice that obviously contributed to the many, many wins, and the glowing pride Dudley Hasson felt in their skills. The terminology he used to praise them, typical of the Cricketspeak which foreigners find so bewildering, conjures up delicious images.

We learn that Margaret was severe on the leg side, Sybil banged up 22, Marigold held a snorter, Isobel took a high skier, Vida held a beauty in the gully, Muriel used the leg-sweep to good effect..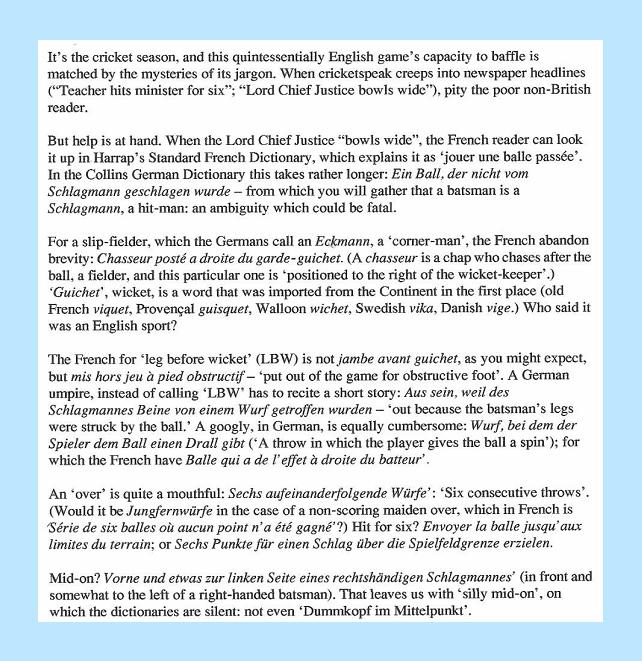 Margaret Harrison playing a sweep stroke in 1955, with Delia Collett behind the stumps.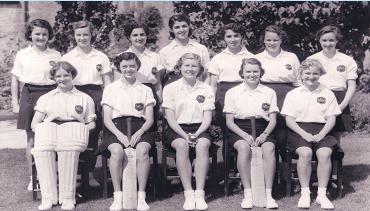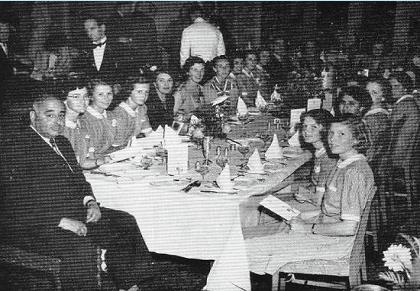 72 games without defeat!
From June 1949 to June 1953 the 1st XI had a run of 72 games without losing one. They broke every record for women's cricket and every record for any school at any game. They scored at an average speed of more than 85 runs an hour. In the 1952 season they were the only unbeaten side in the country.

Mr Hasson entertains Girls at the Cricket Dinner-Dance in the Grand Hotel to mark the end of the record of 72 undefeated games and to bid farewell to the members of the team who were about to leave the School.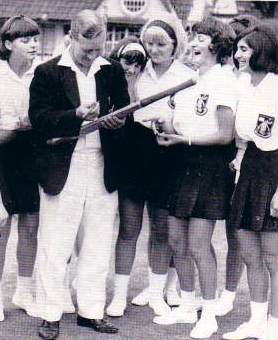 Folkestone Ladies Cricket Club
1951 saw the end of the Club's first season, with a strong St Margaret's influence. Mr Hasson was vice-president, Miss Bland its captain, three staff members and several Old Girls in the team. But the School beat them in their first match together!

Not quite cricket!

At the end of the summer term 1953 the leavers played a match against non-leavers dressed in

multi-coloured square-dancing attire.



Doug Wright kindly sent every girl in the team, and the scorers, a miniature cricket bat autographed by the Kent County team members.

Letter to the Editor, Daily Telegraph, 6 Jan 1997

SIR --- I am ashamed of our England cricket team. Where is the pride and where are the guts? I was proud to play cricket for my school, proud to get my colours and proud to be a member of a winning side. We won 76 out of 78 school matches in two seasons. I reckon our team of that period (1950-53) might have beaten this England side --- even if we were only an all-girls school in Folkestone.
MARIGOLD LOCKHART

(our own Marigold Bassett!)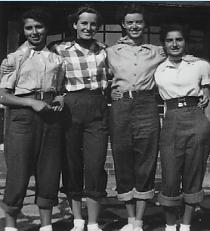 GREETINGS FROM BOB WILSON

In 2009, Diane Gillegin met a member of the Kent Cricket Club, who mentioned two names to her: Leslie Ames and Bob Wilson. Diane told him that she had played in the St Margaret's benefit match for Doug Wright, and he agreed to pass on her good wishes to them. Later, Bob Wilson, now 82, responded by sending his love to us all at SMOGS. He remembers the day well.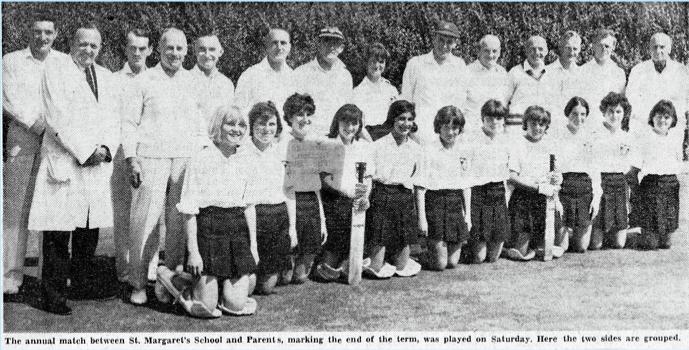 On the right is the 'trailer' for Radio 4's famous serial 'The Archers', for the week commencing 14 July 2012. I enjoyed listening to the episode (17 July) in which the St Margaret's School girls' cricket team beat the local youngsters. Of course we did! There was mention of a blonde St Mag's girl -- Margaret Harrison? Delia Collett? Susan Goatman? Sadly, Colin Hasson has learned from the script-writers that it was pure coincidence that they used the name St Margaret's. See their letter below.