Between 1955 and 1959
the School was unbeaten.

These girls had swum three miles in 3 hours non-stop. Sheila Tuckwell, not in the photo, had swum six miles in the same time! l-r: Caroline Young, Vivienne Moncrieff, Mary Shaw, Sandra Lewis, Jean Bristow, Susan Morwood.



Folkestone Swimming Pool, built in 1936: Wednesday mornings by coach, horror at seeing the water temperature level chalked up outside, rubber ankle rings to claim our cardboard clothes boxes, cheese rolls afterwards while watching Egyptian channel swimmers in training.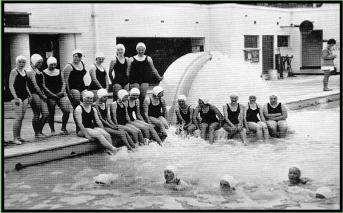 Tennis captains
1947 Wendy Woolliams
1948 Wendy Woolliams
1949 Wendy Woolliams
1950 June Bonniface
1951 June Bonniface
1952 Audrey L.
1953 Isobel Drew
1954 Isobel Drew
1955 Julie Mannering
1956 Leila Farhad
1957 Leila Farhad
1958 Ann Croft
1959 Sarah Crump
1960 Sarah Crump
1961 Sarah Crump
1962 Susan Koettlitz
1963 Heather Bond
1964 Saname Ghayour
1965 Saname Ghayour
1966 Ann Koettlitz
1967 Ann Koettlitz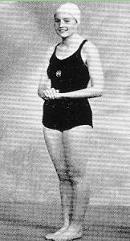 In 1954 Audrey Taylor won the national Kennett Cup for schoolgirl swimmers over fifty metres, a most coveted trophy.

The land for creating the hard tennis courts adjacent to the Junior School in the corner of Grimston Gardens was presented to the School in 1954 by Mr George Stone, Doreen's father, and a well-known local property developer. To this generosity he added a silver trophy, the Doreen Stone Cup for the best marks in the Common Entrance examination: the first Junior Cup.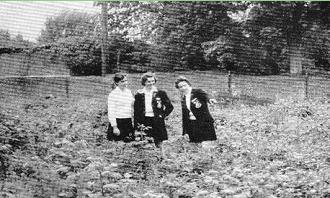 Joy Heanley
left in 1960, with a tennis record that seemed to send her, in the words of The Folkestone Herald newspaper "heading for the Centre Court at Wimbledon.". She won our singles tournament and cup two years running. In 1959 she won the Kent Junior Championship and played for the county against Middlesex. She won the Folkestone Open Ladies' Singles and the Nunally Salver. In 1960 she was invited to play in the Wimbledon Junior Plate, and won. Partnering Sarah Crump for two seasons they never lost a set.

Bronze Medallists for Life Saving, 1954

Miss Jill Norrington (later Mrs Longley, died 2000), and Miss Irma Godwin, sports mistresses. This photo was taken in 1954.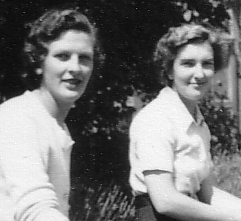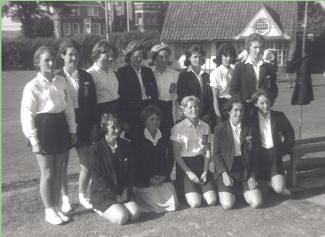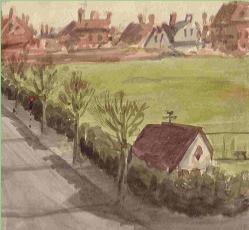 Click on the film to view it, and on the word Youtube to enlarge it.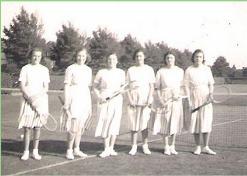 Tennis team 1938, Caroline's sister Amber 4th from left